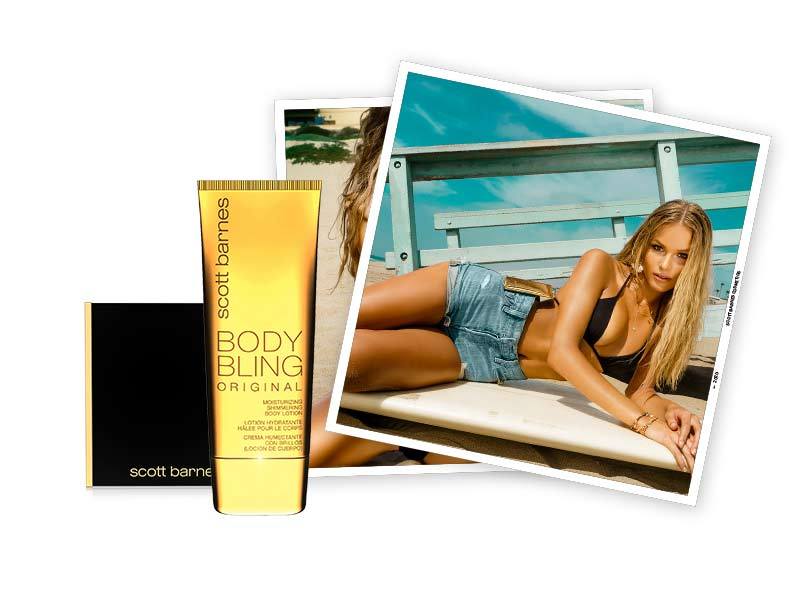 0 products
Sorry, there are no products in this collection.
BODY BLING


Ever since Scott invented Body Bling in 2004, it's been glowing strong as the original bronzing body shimmer. Unlike replicas and copycats, Body Bling's non-transferable formula is trusted by celebrities, models, and professional makeup artists alike.
BODY BLING BRONZING BODY SHIMMER LOTION
Body Bling bronzing lotion has been at the top of Scott Barnes' best sellers list for nearly two decades. And no, this is not your mama's tanning lotion. In fact, some call it the anti-tanning solution because of its easy, streak-free application and even coverage. Plus, Body Bling body lotion can also help even out skin tones and hide slight imperfections.
Scott's shimmer lotion offers an instant sun-kissed glow with shimmery radiance and dewy look, and thanks to a moisture-rich secret formula, skin is left feeling soft and moisturized.
Shimmer body lotions are here to stay and Body Bling bronzing lotion is still the queen of them all. If you're looking for that "Hollywood Glow," welcome to Tinseltown, gorgeous.
BODY BLING PAVÉ POWDER
Whether perched on her finger or dusted across her décolletage, diamonds truly are a girl's best friend.
While Body Bling Pavé Powder isn't made from real diamonds, this makeup powder mimics the effects of crushed pavé diamonds, offering you a naturally radiant look. When it comes to paying homage to Scott's signature glow, this loose setting powder is a must. Choose your favorite or mix and match the ultra-blendable hues to add a touch of warmth and sparkle.
BODY BRONZER PRO TIP: Perfect your look with the Soleil Bronzer, our waterproof bronzer in pressed powder. It's professionally designed for body bronzing to achieve a sun-kissed glow from head to toe. Check out our body highlighter trio that is sure to make your best features sparkle.