Scott Barnes's Blog: Falling Into Fab Fall Makeup
Here in L.A., we get something like 330 days of sunshine a year. That's one difference from my longtime home of New York City (but certainly not the only difference — hello, Botox!). But that doesn't mean we Angelenos ignore the summer-to-fall transition, nor should any of the rest of you who live in season-less locales. Fall is more than a season. It's a mood.
While most of your day-to-day makeup should stay consistent from season to season — because presumably you're wearing what works best for your skin tone and type, features and lifestyle — the change of seasons offers a great opportunity to experiment a bit. Makeup is an accessory, just like a new Givenchy tote or lace-up booties. It allows you to recognize trends, acknowledge fashion, and have a little fun.
Just always keep in mind the lesson you learned last week, and don't overdo it. Like that infamous quote from Alicia Silverstone as Cher in Clueless, you don't want people thinking of you like a Monet: From far away it's OK, but up close it's a big old mess. And that concludes this week's lesson in art history, kids.
Back to makeup. My favorite fall vibe is one that's decidedly not summer. It's a little smoky, greasy, dirty. You're hunkering down for the long, dark winter ahead; you're moody and mysterious. You're a bit wild child bursting to get out, like Galliano before he went totally off the rails. Anything could happen. Here, based on a few things happening this season, I've assembled my ideal fall makeup war chest to help you channel your inner — and outer — seductress.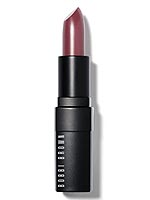 Vampy lips.
The bloodsucking trend ain't over yet, ladies. For fall, try a dark, broody burgundy or black cherry lip color. You'll want to pick up a matching lip pencil to prevent bleeding (no vampire pun intended) and fading. And I always prefer brushes to apply, so I'd suggest working with a lip brush, too. For shades, I like Dior Addict Extreme Lipstick in "Sunset Boulevard" ($30), Bobbi Brown Rich Lip Color in "Crimson" (left, $24) and Dolce & Gabbana Classic Cream Lipstick in "Plum Sapphire" ($30).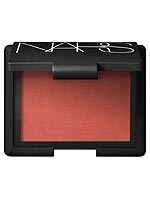 Statement cheeks.
A dark red lip can make you look washed out, if you let it. Don't. A little color on the cheeks will balance out heavy lips while giving a pleasant post-coital look (not that I'm saying you aren't getting it just fine on your own!). I prefer cream blush for all seasons; because they're generally a little sheer and translucent, creams are an easier way to create a look that's dramatic, but still natural. I like YSL Crème de Blush in "Rouge Passion" ($37.78), Make Up For Ever HD Blush in "Fawn" and NARS blush in "Liberté" (left, $28).
A gold-toned highlighter also works well here to give an autumn-like, prancing-in-the-leaves glow. Use it on your cheeks, or take it to your lids or below your eyes. Try M.A.C Lustre Drops in "Sun Rush" ($20), Anastasia highlighting crème in "Aspen" ($26) and Make Up For Ever Star Powder in "Gold" ($20).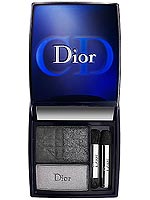 Smoky, dirty eyes.
Blacks with a hint of sparkle can give that greasy, gothy sheen that makes people wonder about you. It's super glamorous, but naughty, too. Opt for a cream shadow that won't flake off. You'll also need a good matte black shadow. Some of my favorites are CoverGirl Smoky ShadowBlast in "Onyx Smoke" ($11.90), Make Up For Ever Aqua Shadow Crayon in "OE" and Dior 3 Couleurs Smoky Ready-to-Wear Smoky Eyes Palette in "Smoky Black" (left, $48). (And check out my latest book, Face to Face, for a how-to tutorial on creating the perfect cat eye.)
If you're not a super dramatic girl, or have small eyes, you can skip the heavy-duty black and instead opt for eye color in the just-as-dramatic burgundy/mauve category. I've been loving Smashbox Photo Op Eye Shadow Trio in "Auto Expose" ($26.60), Make Up For Ever Diamond Shadow in "Diamond Burgundy" ($20.50) and Bobbi Brown Long Wear Cream Shadow in "Heather" ($24).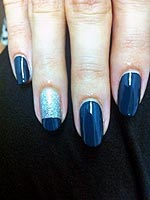 Pirate nails.
From my great friend and insanely talented nail artist Tracey Sutter (Tracey did all the nails for Face to Face, and they're GORgeous), nails for fall are a pirate's booty of jewels. What's in: blues, greens, purples, oranges and, of course, grays, because you're all so shamelessly obsessed with 50 Shades of Grey. Metallics are also hot, including the metallic- and glitter-tipped French manicure, or the reverse: glitter nails with a solid tip. For shades, Tracey likes Essie's "Head Mistress" ($8, "My new go-to red," she says), "Don't Sweater It" ($8, gray), and "Stylenomics" ($8, dark green). She also loves the selection of colors from Pure Ice and Sinful Colors, which have a huge selection and are well-priced enough at Walmart and Walgreens that you can buy a bunch. Follow Tracey at @tlsutter1 for regular tips!
And, of course — in general, and as always — play around with it, find out what works for you. But do try using makeup to create a mood, rather than, necessarily, a look. Think: What do I want my fall to feel like? Then go make it happen.
–Scott Barnes
Permalink: http://stylenews.peoplestylewatch.com/2012/10/10/scott-barnes-fall-makeup-tips/

Meet Our New Beauty Blogger, Celebrity Makeup Artist Scott Barnes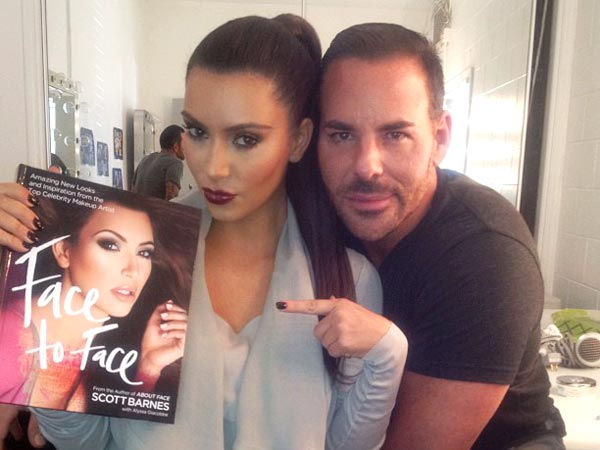 Please give a warm welcome to Scott Barnes! The celebrity makeup artist and beauty book author is a go-to among Hollywood's hottest, thanks to his serious skills with a makeup brush. Barnes has painted the faces of leading ladies like Gwyneth Paltrow and Kate Hudson, and is credited as the man behind Jennifer Lopez's golden glow, thanks to his Body Bling bronzer.
Barnes just released his second book, Face to Face, and will be writing for PEOPLE StyleWatch in the weeks ahead, dishing out advice on makeup and sharing secrets from his star-studded adventures.
I am very pleased and excited to announce that this is my first of many blogs to come for People.com! This has been a very exciting month for me with the launch of my second book, Face to Face (with my cover girl Kim Kardashian), which features celebs from Vanessa Williams and Raquel Welch to Paris Hilton and Kathy Griffin and many others. It's really a celebration of the transformation process and also my move to Los Angeles from New York.
As a celebrity makeup artist, I am probably most known for my ability to transform people. This is exactly the approach I took with Kim Kardashian when I contoured her face at a recent photo shoot, pictures from which went viral all over the blogosphere. It all started with my first book, About Face, where I took 16 women and had them come to me as beautiful as they thought they could be. I then transformed them into what I knew they could be. So, what is the transformation process and how can we begin to transform ourselves?
Let's start with two personal beauty philosophies that I want you to write down on your mirrors. After all, I always say, 'Beauty for purpose as opposed to beauty for vanity's sake.' The first is this: "Looking good is more than a way of life, it's a plan of action." The second is: "Don't follow trends! The trend is to be beautiful, and be the best possible version of yourself."
The problem with most women is that they're so busy trying to be someone else, like someone they see in a magazine, a Victoria's Secret model, or their favorite actress or pop artist, that they miss out the empowerment and sexy confidence that they could be feeling, simply just by becoming the best possible version of themselves. The art of the transformation process starts with finding the best, most prominent features in your face, knowing (but not dwelling on) what features lack, and finding the perfect balance between the two, creating a look that showcases your best features and minimizes the flaws. This is achieved through contouring techniques, which you'll find detailed explanations of in my books.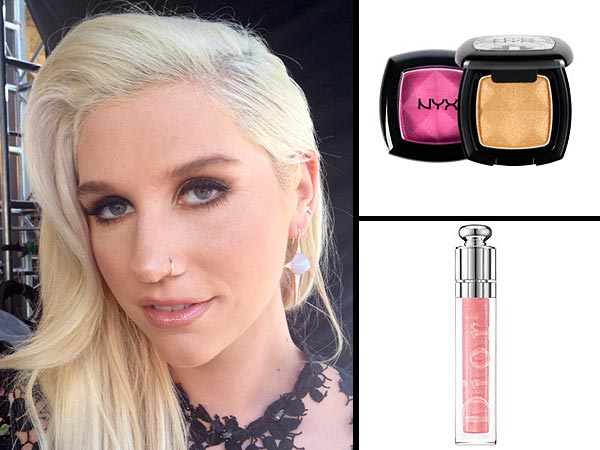 My most recent example of this technique would be Ke$ha, whom I just worked with for the MTV Video Music Awards. My approach to Ke$ha was to have people see what I saw, rather than what they've seen from Ke$ha thus far.
Ke$ha's a very beautiful girl and I wanted to make sure to bring out the best features that she had to offer. I used everything from NYX Eye Shadow Palette to Dior Lip Gloss to create this new look for her. The common misconception is that you have to pay an arm and a leg just to get the best possible look, which isn't true. However, you do have to learn what shades work best for your skin type and color, especially when contouring!
Needless to say, when Ke$ha hit the red carpet, everyone was floored, Ke$ha felt great about herself, and everybody won. So we know that in order to begin a transformation, we have to learn about our best features and the basics of contouring.
But why? Why should you begin your new transformation?
All in all, the most important gem that I want to leave you with is that, through the power of transformation, a woman gains confidence and a better sense of self-worth in the process. It's an important point. In fact, it may even be the point: If you're doing things to make yourself feel better and look better — grooming yourself, eating well, exercising and doing whatever it takes to become your most beautiful self — it can benefit you in extraordinary ways that stretch far beyond mere physical appearance. I think of it as empowering yourself, having a spiritual relationship with yourself. And that's the real power of beauty.
–Scott Barnes
Permalink:
http://stylenews.peoplestylewatch.com/2012/09/17/scott-barnes-makeup-tips-blog/
Scott Barnes's Blog: Seriously, Take a Beauty Cue from Ke$ha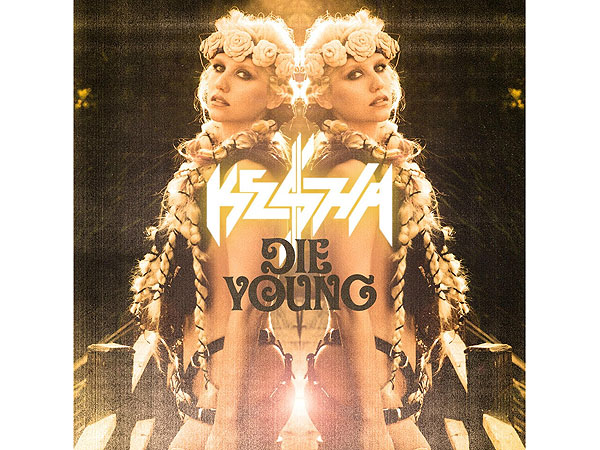 Thanks for welcoming Scott Barnes to PEOPLE StyleWatch! The celebrity makeup artist has been hard at work lately, releasing his second book, Face to Face, and blogging for People.com. This week, he tackles the topic of beauty risks — and gives a shout out to one of his favorite clients.

In getting to know me through these posts for People.com — and I promise to tell you everything, whether you like it or not — you'll see that I have lots of what my friends and clients call "Scottisms." I'm always saying, "As I like to say …"

Having worked in the makeup business for so many years, I've developed a number of mantras about beauty, makeup, and, really, life in general, because beauty is such a great metaphor for life. How you choose to present yourself is a direct correlation to how you feel inside.

So every week, I'll be offering you one of my Scottisms. Use those you like as inspiration or just a good laugh. I truly believe we're most beautiful when we're laughing, which is one reason lots of my favorite sayings are simply things that make me chuckle. Sometimes you need a dose of laughter just to get through your day.

Last week, we started talking about the idea of transformation. How — if you let it — makeup can help you transcend whatever mood, shape, or state of mind you're experiencing at any given moment. And how the better you feel about yourself on the inside, the more beautiful you'll appear to others on the outside.

But I want to be clear: Transformation isn't about making yourself into someone new. Makeup, at least in my mind, isn't about creating something entirely different or even covering up what's already there; it's about taking the gifts you already have and putting them to their best possible use. It's about expressing who you are on the inside. And sometimes, fear can get in the way of us doing that.

It seems counterintuitive, but it can be scary to try to be our best. It means making an effort, putting ourselves out there. Not everyone will like what they see, or maybe they'll feel threatened by it.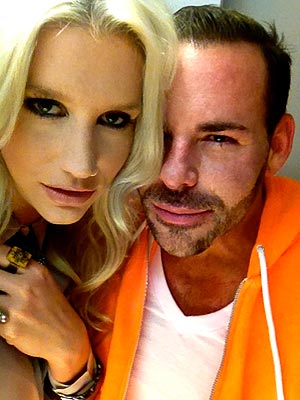 Which is why Ke$ha is such an inspiration to me. She's completely unique, and unafraid to be exactly who she is, even when she struggled early in her career to prove that she had talent, and to make a name for herself. Now — insanely successful, of course — her song lyrics reflect her commitment to individuality. She realizes that beauty isn't perfect, just as life isn't perfect, and she makes no apologies. And that's why I dedicate this week's Scottism to the one and only Ke$ha: As I like to say, "Fear is like Spandex. It will only hold you back."

This week, I'll be making the rounds with Ke$ha as she promotes her new album (above). We're also shooting the music video for "Die Young," the first single off her upcoming album, and I'm super excited. As you saw last week, I like to blow people's expectations away, and that means creating something they've never seen before — so stay tuned to see what we come up with.

In the meantime, though, a tip for you: When I'm doing Ke$ha's makeup, I like to use one of my most favorite ever eye pencils. You're going to thank me for this one, because it's so amazing — and so cheap! It's Maybelline's Expert Eyes pencil, and it comes two to a pack for less than $8. In my opinion, it's still the best pencil on the market.

On Ke$ha, I use Velvet Black — the blackest black — to create a smoky, sexy eye. What's so great about the smoky eye — and so very Ke$ha — is that it doesn't always have to be perfect. There's room for error. Of course, you want to watch out for some of the smoky eye pitfalls. Messy can be sexy. It can also be a mess.

So try this: Before using, soften the pencil tip by waving it through the flame of a cigarette lighter a few times. This will help the pencil go on easier and reduce the need to pull, which can create wrinkles. Let it cool before using, of course, and it's a good idea to test it on your hand first. (For a more detailed how-to for creating the perfect smoky eye, check out my book, Face to Face.) And play around with it! You'll only get better with practice.

I hope what you take away from this week is the idea that makeup, and life, is about experimentation. It's about taking risks. And it's about mistakes. Mistakes are OK — necessary, even. Mistakes are how we grow. Taking risks is how we reap big rewards, whether you're a wannabe pop star or a regular woman who wants to feel good about herself every single time she leaves the house. I want that for you!

Which brings me to your assignment for this week: Wear something, say something, do something totally out of character. Maybe it's choosing a cherry red lipstick. Maybe it's standing up for yourself at work. And then let me know how it feels.

–Scott Barnes

Permalink: http://stylenews.peoplestylewatch.com/2012/09/24/scott-barnes-makeup-beauty-blog-kesha/
Face To Face by Scott Barnes now available


Face To Face by Scott Barnes

http://www.usmagazine.com/celebrity-news/news/kim-kardashian-lands-cover-of-scott-barnes-new-beauty-book-face-to-face-2012114

http://www.celebuzz.com/2012-04-11/kim-kardashian-%E2%80%98face-to-face%E2%80%99-by-scott-barnes/

http://www.dailymakeover.com/blogs/beauty-trends-and-news/kim-kardashian-is-cover-model-for-scott-barnes.html

http://omg.yahoo.com/news/kim-kardashian-lands-cover-scott-barnes-beauty-book-222720779.html

http://uswebdaily.com/news2/kim-kardashian-lands-cover-of-scott-barnes-new-beauty-book-face-to-face
About Face
Scott Barnes' highly anticipated book, About Face - Amazing Transformations Using the Secrets of the Top Celebrity Makeup Artist, is now available. Learn how to achieve – on your own – the looks Barnes has created for the likes of Jennifer Lopez, Mariska Hargitay, Kim Kardashian and a bevy of models and everyday women of varying ages.

Click here to order now